Adventures
Come for fly fishing, horseback riding, and all-access tours of Yellowstone National Park; skiing over 50 miles of world-class Nordic trails or downhill slopes; and hiking our 53 miles of trails. Stay for the lifting mist at sunrise and the chance to spot a moose or deer as it ambles through. Bring your family, friends, or someone special, and we'll take care of the rest.
Horseback Riding
June – early October
Horses have long been essential to the way of life in Big Sky Country. For over a century, Lone Mountain Ranch's team of horses has brought ranchers and visitors into parts of the backcountry that are otherwise unseen and untouched. From galloping on the ranch to venturing into Lee Metcalf Wilderness and Gallatin National Forest, our experienced wranglers and horses are dedicated to empowering riders of all ages and abilities to discover real Montana.
To provide specialized attention to every guest, adventures are limited to a few riders per wrangler. Wranglers will spend the first ride day assessing abilities and matching riders with their best horses. Previous riding experience is not required – our highly trained wranglers can teach beginners the skills they need to enjoy their time on horseback or advance the skills of more experienced riders. For More Information about Horse Safety and our horse program, click here
Yellowstone National Park Tours
Mid May- early October
Lone Mountain Ranch has a century-long tradition of curating Yellowstone Park experiences – from the history and geology, to the backcountry and wildlife. Our naturalist guides are accredited Yellowstone guides, with a lifetime of expertise and the most comprehensive, turnkey access to the park.
Let us take you for a hike, picnic, photography expedition, or to see iconic landscapes and geysers such as Old Faithful. These are our roots, so when you visit Yellowstone with us, you get much more than a tour.
Guided Hiking
Mid May – early October
Lone Mountain Ranch, Big Sky, and the surrounding National Forrest Wilderness are all home to countless beautiful hikes. Join one of our Lone Mountain Ranch Naturalists for an adventure on the trail. Our naturalist will help choose a trail that matches your ability level and expectations.
Outdoor Youth Adventure Program
Late May – August
The Ranch is as much a playground for children as it is for adults. This program builds confidence through outdoor recreation, develops an appreciation for nature, and most of all gives young people (aged 3-14) the space to roam, have fun, and connect with each other. Experienced and energetic staff will lead kids through a variety of adventures geared to inspire and challenge all age groups. Available June through August.
Fly Fishing
Mid May – early October
Situated between the world-famous Madison and Gallatin Rivers, Lone Mountain Ranch is the idyllic place to fish blue ribbon rainbow, brown brook trout, and native west slope cutthroat trout. The fly-fishing guides will provide anglers of all levels with the skills and gear they need to begin or advance their sport.
For some, there is no more relaxing experience than casting a fly rod. For others, there is no greater thrill. We will refer you to our local partners where they can tailor the experience to your interests, skill level, and desire to explore.
*Additional fee applies.
Canoeing and Paddle Boarding
Choose from two offerings throughout your week at Lone Mountain Ranch. Take a short, half day trip to Lake Levinsky here in Big Sky or expand your horizons in a full day journey to Hebgen Lake in West Yellowstone. On either trip, you will enjoy a relaxing day in the sun under the big sky of Montana, while you paddle around pristine waters. Lone Mountain Ranch is fully equipped with canoes, kayaks, paddle boards, and safety equipment to create a unique experience for all interests in water sports. On our Hebgen Lake trip, we will also have a shoreline lunch packed and prepared for you by the Horn & Cantle Kitchen.
3-D Archery
Put your sights to the test on our 3-D Archery course. The Lone Mountain Ranch archery course is made up of life-size, high-density foam archery targets that depict different species you will find in the wild around Montana. Spend time with a professional guide on our practice coarse while sighting in your fully adjustable compound bow before you "hit the woods". This is an experience like no other in Montana and is guaranteed to create lifelong memories and photo opportunities. You may even find a new passion and hobby from this experience, as many previous guests have.
High and Low Ropes Challenge Course
Our on-site Challenge Course can offer a fun family adventure or personal endeavor. Through our own programming and a "challenge by choice" nature, guests will be led through a safety orientation, then climb 30 feet into the air while belayed by a professional guide making their way through the elements of the course or take on a family member or friend to race to the top of our Jacobs Ladder.
If heights are not your forte, challenge yourself on our low element cable course (individually or as a team) to make it from start to finish without your feet touching the ground.
Axe Throwing
There are few things more satisfying than hitting the bullseye of a target with an axe. This activity is geared toward family-friendly competition. A Lone Mountain Ranch guide will lead groups through a safety and instructional orientation before the axes fly towards our wooden slab targets.
Yoga
Continue your personal mind and body practice while on vacation or loosen up after a few days of adventure in one of our on-ranch yoga classes. All classes are primarily outdoors and for all levels. They are offered throughout the week in the mornings and evenings.
Lone Mountain Ranch Rodeo
Join us for our weekly Tuesday night Lone Mountain Ranch Rodeo where we challenge cowboys and cowgirls to a competition for bragging rights and the honor of wearing our Ranch Buckle!
Our ranch rodeo is a throwback to the old west in which teams of cowboys or cowgirls from their home ranch compete in events based on their profession from the prairie. Events are based on realistic jobs that were done 100 years ago and are still done today across the west. At our weekly Rodeo, we feature barrel racing, ranch roping, old west bronc rides, and team sorting/cowhorse competing! Tickets include rodeo, elevated Montana Summer cook-out, beer, wine and non-alcoholic drinks.
Sleigh Ride Dinners
December – March
The Sleigh Ride Dinner, a classic draw for over 35 years, sweeps you off through the snow for a 20-minute ride under a starlit sky to our historic North Fork Cabin. You'll be greeted with a shot of honey moonshine and enjoy a classic Montana prime rib meal cooked over a century-old railroad stove. Our cowboy singer storytellers entertain you as you dine by oil lamp on rosemary popovers, crème fraiche mashed potatoes, roasted vegetables, and huckleberry cobbler. Ride by sleigh back to The Outpost.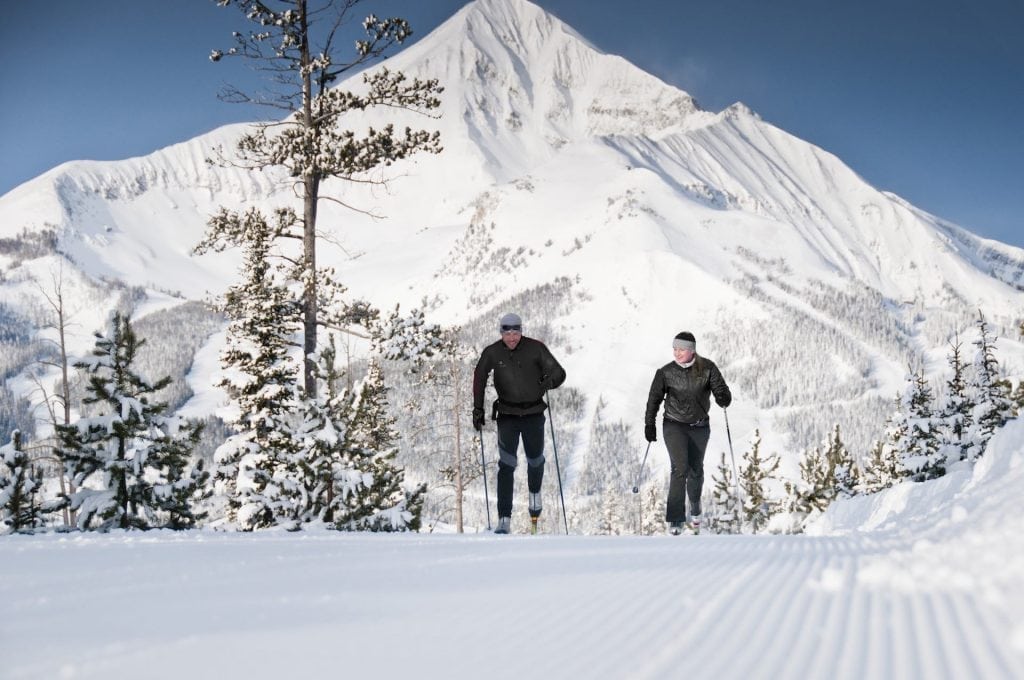 Backcountry Nordic Skiing
December – March
With 85 kilometers of carefully maintained woodland trails over phenomenal mountain terrain, it's no wonder Lone Mountain Ranch has been voted Cross Country Skier magazine's #1 Nordic ski destination in North America. Our knowledgeable guides, dependable snow and wide range of trails offers something for beginners, experts, leisurely explorers and hardcore athletes.
Operated under a special permit with Custer Gallatin National Forest.
Downhill Skiing
December – March
11,166 feet up, 5,700 skiable acres, 4,350 feet of vertical drop, 22 chairs, 300 runs, 4 mountain sides, and an average of 400+ inches of annual snowfall – Lone Mountain Ranch is located just 10 minutes from our neighbor, Big Sky Resort. On demand transportation to and from the slopes is included in guest packages. When you get to the bottom, the Ranch is the perfect place to unwind.
*Additional fee applies.
Snowshoeing
December – March
Explore the Greater Yellowstone ecosystem on foot, without harming the delicate biodiversity all around. The 30 km of snowshoe trails meander through the ranch, outside of the Nordic trail system. Start at your cabin door and trek alone, with friends and family, or with a guide.
Snowshoes are available for rent in the Ranch's Outdoor Shop, and a trail map will get you started on your journey. Call 406.995.4734 with any questions.
Dogsledding
December – March
The ranch can arrange a special excursion with our partners at Yellowstone Dog Sled Adventures and Spirit of the North. This is a truly unique way to experience the wintry landscape. Around every bend, there's more to see: majestic peaks, unobstructed views of Fan Mountain and untouched landscapes.
Sit back and glide quietly along, try driving with hands-on instruction from experienced guides. Handling a sled team is exhilarating and unlike any other form of travel.
*Additional fee applies.
Yellowstone National Park Tours
Mid-December – Mid March
Lone Mountain Ranch is deeply interconnected with Yellowstone Park. For over a century, we have shared land, air, resources and guides with a national treasure, and there is nothing more special than the quiet of the Park in winter.
Lone Mountain Ranch guides are trained and certified Yellowstone National Park guides, ready to take you to parts of the park inaccessible to other visitors. Cross-country ski or snowshoe into the backcountry, or take a snowcoach to explore the most iconic scenery. Bison, elk, wolves, eagles and brightly colored steaming geysers are in view this time of year.
*Additional fee applies.
Winter Fly Fishing
December – March
Lone Mountain Ranch is the best way to access the year-round abundance of both the Gallatin and Madison Rivers. Our guides can help first-timers and long-timers discover the perfect spots to cast for rainbow, brown and brook trout. The winter offers a special kind of serenity, with zero crowds and large, healthy trout. Access remote blue ribbon streams by snowshoe, or pair a half-day wade with a few hours of skiing.
*Additional fee applies.
Backcountry Skiing
December – March
Lone Mountain Ranch is situated among thousands of miles of luxurious, rugged wilderness just beyond our doorstep. After a short shuttle ride with a naturalist guide to the Northwest corner of Yellowstone or to the Gallatin National Forest, you will have access to tours of varying difficulty, ranging from easy rolling trails to more advanced glides ideal for practicing your telemark turns. Tours are rated easy, moderate or difficult, depending on length, the amount of climbing, and the difficulty of the skiing.
*Additional fee applies.
Amenities Included with Your Stay
Text for Service
In-Room Record Player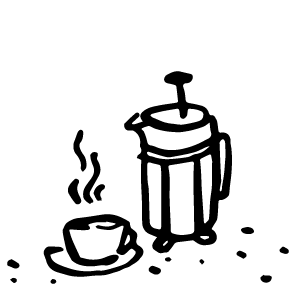 Coffee Service